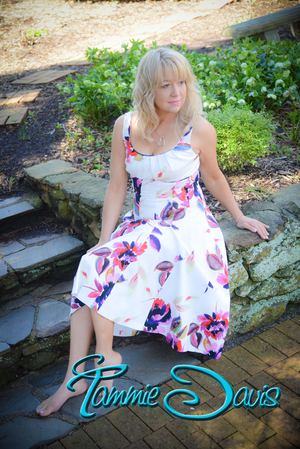 Ford Motor Company Fund has announced that it is forming a partnership with SMG Recording Artist Tammie Davis to help promote the 'Ford Driving Skills for Life" Program.
April 20, 2015 - Nashville, TN – SMG Recording Artist, Tammie Davis
and Ford Motor Company
have teamed up to promote
Ford's 'Driving Skills for Life' teen safe driving program
. "I am so excited to partner with Ford Driving Skills for Life. I have been aware of this program for some time and am fully committed to spreading the word on this awesome program which is provided for free by Ford to help save teen lives", said Tammie Davis.  Davis,
a decorated U.S. Marine Veteran
and award winning country singer, will use her passion for teen safe driving to assist the Ford Driving Skills for Life team in educating parents and teens on the leading cause of teen deaths – vehicle crashes. "We are very pleased to work with Tammie Davis", said Jim Graham, Global Manager Ford Driving Skills for Life.  "Tammie is truly dedicated to the cause of teen safe driving and has multiple platforms to assist in getting the word out to parents and teens on this very important issue."
About Ford Driving Skills for Life:
Ford DSFL was established in 2003 by Ford Motor Company Fund, the Governors Highway Safety Association, and a panel of safety experts to teach newly licensed teens the necessary skills for safe driving beyond what they learn in standard driver education programs. The program is international in scope, touching not only the United States but many areas around the world. The basic premise behind Ford Driving Skills for Life is to provide a step in the leaning process, providing new skills and information not currently shared with newly licensed drivers in the basic driver education courses. For more information, visit
www.drivingskillsforlife.com
, and also on
Facebook.About Tammie Davis
: If you like real country music – you will love Tammie Davis. Tammie came from a gravel road small town home in Lincolnton, NC and caught the attention of a group of corporate planners in late 2010 when she was asked to perform with Charlie Daniels in Las Vegas. Thereafter she began to headline shows and open for major artists and was showcased at the prestigious 'Friars Club in New York City upon a special invite. Tammie was one of only two independent artists invited to Rapids Jam Music Festival, where she opened for Sugarland, Darius Rucker, Willie Nelson, Colt Ford, Lady Antebellum and Jason Michael Carroll among others. Appearing on the national television show Virginia Dreams Center Stage, Tammie and her band have been invited back year after year. Radio airplay is certainly no stranger to Tammie, her first single 'Tall Dark & Lonesome' was in heavy rotation on Billboard/Media stations like
WKML 95.7FM of Fayetteville, NC
and her second single "It's A Beautiful Life' was played on one-hundred forty radio stations across the U.S. and in sixteen countries. Tammie just released her third single to National Radio in April 2015. For more information about Tammie, visit
www.TammieDavisMusic.com
,
Facebook
and
Twitter.
Watch the PSA on
YouTube
.